Busboys & Poets Takoma Presents Comedy Night
January 2 @ 7:00 pm

-

9:00 pm

$10
Why so serious?! If you are like us, you have found it hard to find things to laugh about. Working to change the world is grueling and daunting work, but the pursuit of happiness is what we are fighting for! So we are making time to LAUGH! Busboys and Poets is pleased to introduce COMEDY NIGHT in Takoma
Come out on January 2nd, 2019 and get your ribs tickled, massage your funny bone, slap a knee or two. Because LAUGHTER is an act of resistance!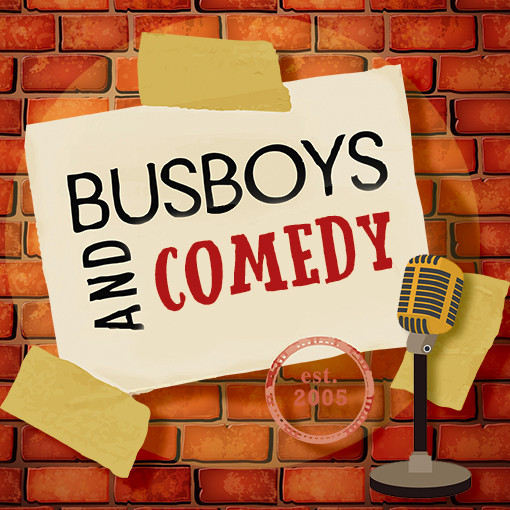 Produced by Allan Sidley:

A comedian, improviser and lyricist, Allan is a jack off all trades. Allan's humor is dry, and a little wet from perspiration, usually. He pokes fun at Jews, mostly his Mom & Grandma, and dissects cultural taboos like online dating while balding or enjoying the occasional funeral. Often serious with a hint of silly, Allan manages to keep dark topics light-hearted and his audiences on their toes. His comedy has been described as, "great for first dates.
He's opened (the door for) Sinbad, and toured throughout Eastern Europe in the summer of 2011 (not for comedy, just a fun fact). He did however recently feature at the DC Drafthouse, and was a member of the Unkosher Comedy Tour. In addition to running comedy shows at Busboys & Poets in Takoma, Shirlington, and 14th & V, he manages the Tysons Comedy Cellar and shows under his production company Sidley Standup. Check him out at www.sidleystandup.com
About the Comedians:

Mike Brown: Michael Brown, aka Mike.B, first felt the nudge toward comedy in his hometown of Norfolk, Virginia where his affection for the art form was nurtured and cultivated. After serving in the United States Army for nine years as a soldier (and receiving various awards for his service and valor) he decided it was time to launch his comedy career. Due to his friendly and engaging personality, he was immediately likable, and quickly began hosting shows at various venues throughout the Washington, DC metropolitan area.
His unique, yet direct and energetic approach to humor led to him opening for acts like Beth Stelling, Dino Archie and Lil Rel Howrey. Mike's captivating comedy skills has also made him a great fit for the big screen, having an acting role in the short film A Family Affair. A film that has won numerous awards at film festivals. His other on-screen projects include; The Tommy Taylor Show, Capital Comedy Connection, and DCTV commercial Anytime Anywhere.
Abby Mello:Abby is a Baltimore stand-up comic who has performed all over the region. In addition to hosting and performing at comedy clubs (and lots and lots of bars), she co-produces a monthly all-women comedy showcase, The Clitorati Presents…Lip Service. Abby's relatable content is largely autobiographical – aimed at finding the funny in everyday life. Her comedic style draws from her experience as an educator and social science researcher. A moderately famous comic once described her comedy as, "feminine, vulnerable, and not taking sh*t from anyone". A Tinder date once described her as, "someone who expects people to listen when she talks". There was not a second date. Abby has a 4.3 on rate-my-professor and is a 5-star Lyft passenger.
Amit Khardori started out not talking at all. Then he learned to talk. Then he did talk, but was a somewhat quiet kid. One of his earliest really vivid memories is of a time at the beginning of kindergarten when a music teacher struggled with saying his name, and all the other kids started laughing; he tried to say something funny to defuse the situation; it worked and all the kids laughed with him instead of at him; he felt great; and then when the laughter died down, they all noticed that the teacher was upset; and then she put him in the corner. So, he took a break from comedy. Then he moved around a bit–with his parents. He probably talked too much in high school. In college, he got really quiet. In law school, he pretty much stopped talking. He did talk to this one person. Then he got a job where he was very quiet but became known for the occasional solid aside. He and the one person met a couple of other people. He talked to them a lot. During this period, he also ate a lot. Now he does stand-up.
Michele Sometimes: Michele Sometimes is a writer and stand-up comedian based in the DC Area. Under her production company Brainy Girl Productions, Michele produces and hosts an interactive comedy and storytelling show about awkward sex called SMASH!, and a comedy game show called Black Card Declined. She has featured and hosted at the monthly DC Improv Comedy Showcase as well as showcases at Arlington Drafthouse, DC Drafthouse Comedy, and The Comedy Loft At Bier Baron. Michele has featured for touring comedians such as Bengt Washburn, Rob Cantrell, Zainab Johnson and Rick Younger. She appears on The Final Five on Fox 5 sharing funny commentary with anchor Jim Lokay about the top news stories of the week. Michele Sometimes featured at Brightest Young Things Bentzen Ball where she performed with Naomi Ekperigen and Andy Beckman, and has appeared both in Marie Claire and Essence Magazine. Despite all of this, Michele has managed to be home long enough to feed two children and a cat who insist on being fed and talked to regularly.Matt Deakins:
Matt Deakins is a stand-up comedian. He lives in Virginia. When people ask him, he says Washington D.C. He's performed in these places: Pittsburgh Improv, DC Drafthouse, Charlotte Comedy Zone. He's performed with these people: John Huck, Jordan Carlos, Dustin Diamond. "You're my favorite Comedian." – Matt DeakinsVon Michael:
Von Michael's been ripping up the stage from Newport to Baltimore for years opening for DC Legend Tony Woods and other greats like Deion Cole. He's got a laid back style but a sharp eye and keen mind. He's also one of the hardest working guys on the local scene. We love this dude and feel lucky to have him on our stage.
Seating is first come first served. Full menu & bar will be available throughout the event.